News / Announcements
A Diplomatic School Publication
18.03.2020
Related pictures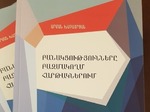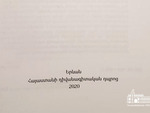 The Diplomatic School of Armenia has published Negotiations in Multilateral Platforms, a book by Arman Khachatryan.
The book examines issues related to conducting multilateral diplomacy, the main characteristics of multilateral platforms and multilateral negotiations, as well as strategies and tactics used in these frameworks. Negotiation roles and skills that could be useful within multilateral platforms are also discussed and the behavior of small states is especially highlighted in this context. Briefly reviewing theoretical discussions on international institutions, the author scrutinizes the settings of multilateral platforms that affect negotiations and final decision–making. As in multilateral negotiations states assume certain roles that can be changed, played again or struck out from the repertoire, the author uses the metaphor of a ship and navigation to figuratively describe the distribution of roles in a negotiation process. Negotiations are compared to navigation aimed at steering a ship, i.e. a draft document, from one point to the other. In this metaphorical navigation, states assume the figurative roles of a captain, a marine pilot, a sailor, a boat–rocker, a pirate, a passenger or a boatman.
The volume offers also a discussion of negotiation techniques and skills of procedural and substantial nature.
Arman Khachatryan is a diplomat working at the Ministry of Foreign Affairs of Armenia since 2004.