Recent guest lecturers
Professor Nicholas Cull at the Diplomatic School
27.09.2018
Related pictures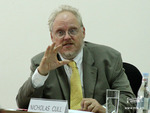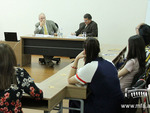 On September 27th, the Diplomatic School hosted the founding director of the Master of Public Diplomacy program at the University of South Carolina, editor of the journal "Place Branding and Public Diplomacy", the President of the International Association for Media and History, Professor Nicholas Cull, who delivered a lecture entitled "From Diasporas to Digital: Public Diplomacy for Small Countries" for officials of the Ministry of Foreign Affairs and the Ministry of Diaspora. The meeting was organized by the Diplomatic School of Armenia.
Welcoming the speaker, the Director of the Diplomatic School, Ambassador Vahe Gabrielyan emphasized the importance of the topic, as public diplomacy is an important part of the daily work of public servants.
Professor Cull spoke about public diplomacy as a practical and important element of "soft power". He spoke about his understanding of the role and the meaning, as well as some specifications of public diplomacy, emphasizing its importance for small states. Prof. Cull also referred to diasporas, as a significant resource in resulting positive outcomes.
In response to the questions from the audience Prof. Cull described some practical implications of public diplomacy, as well as best practices of the field.